While business travel can be good for your career, it's not always good for your waistline.
Traveling to another city for a networking opportunity, a business meeting or to attend a conference is a great opportunity. However, sometimes your packed schedule means that you don't have the time to eat a healthy meal. Grabbing fast food on the go is convenient, but it will also leave you feeling sluggish rather than healthy and energized.
Here are some healthy eating tips for every business traveller to keep in mind.
Be Prepared
When you bring your own snacks with you, you'll avoid being tempted by the quick and easy yet unhealthy options on the way. For example, bring along some fruit, a granola bar or carrot sticks that you can munch on while waiting for your flight. (Just keep in mind airport security and customs restrictions.)
Also, sometimes morning conferences and meetings run late, leaving you starving and more likely to overeat when you finally get to lunch. Having a banana or a bit of trail mix in your bag can be a lifesaver.
Stay in Self-Catering Accommodation
When you stay in a hotel during a business trip, you'll have no option other than to eat all of your meals in a restaurant (or order room service). Since restaurant portions are often larger than necessary and include plenty of salt and fat, this is a huge factor in why many business travellers return home with their clothes feeling a little too tight.
When you stay in self-catering accommodation, such as a furnished apartment with a kitchen, you'll be able to shop at the local supermarket and cook your own healthy meals. That way, you can make fresh and tasty recipes and you'll know exactly what is going into them.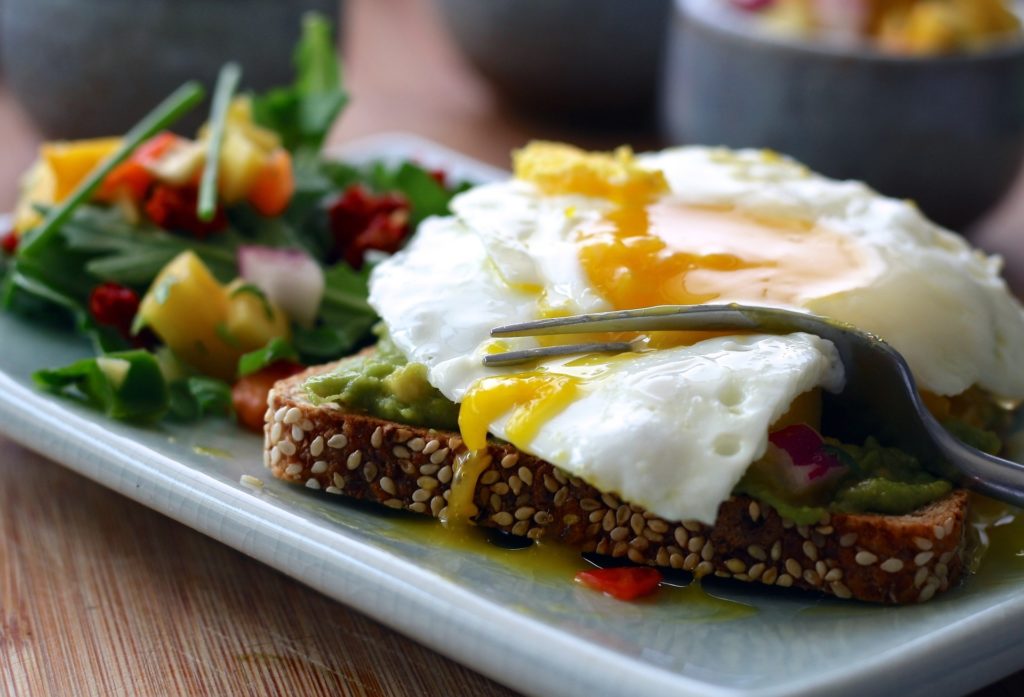 Have Protein for Breakfast
When you start your day, consider some eggs and wholegrain toast rather than sugary cereals or pastries.
The protein will leave you feeling fuller for longer so that you don't get that mid-morning sugar crash and subsequent cravings. Plus, there are so many tasty dishes that you can make with eggs – from scrambled to fried to poached and much more.
Choose One Treat – And Really Enjoy It
Part of the fun of travelling somewhere else on a business trip is the chance to try the local cuisine, so you don't want to completely restrict yourself from enjoying the food. The key is to limit yourself to one or two indulgent treats on your trip and to really focus on the experience of eating them.
So, if you are on a business trip to Vancouver Island you might treat yourself to the finest, gourmet Nanaimo Bar. Or, if you are heading to Montreal you can dig into a huge plate of delicious poutine. Get the very best and sit down and really focus on enjoying it.
These are just a few healthy eating tips. How do you eat healthily when you travel for business? Let us know in the comments below.

Latest posts by delsuites
(see all)