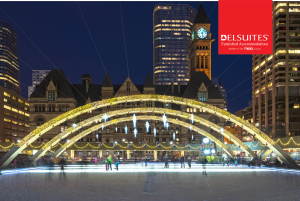 Visiting Toronto in winter might send a shiver down your spine, but as long as you bundle up there are a lot of things to enjoy in this chilly city during the winter months. Plus, there will be fewer tourists, flights and accommodation will be less expensive. You may even have the opportunity to get to know the locals. Here are some of the reasons visiting Toronto in winter can be enjoyable.
There's Always Somewhere to Skate when Visiting Toronto in Winter
Toronto has approximately 50 skating rinks run by the city, which means that no matter where you are you can always find somewhere to strap on your skates and glide gracefully across the ice (or crash awkwardly into the boards). Check out the rink at Nathan Phillips Square, the Colonel Samuel Smith Park skateway in Etobicoke or the covered rink at Greenwood Park.
You Can Feast at Winterlicious
When you have worked up an appetite with all of that skating, you can warm up inside and enjoy the fantastic culinary scene that Toronto has to offer. Winterlicious will run in the last week of January for two weeks and during this time many restaurants throughout the city offer a menu of discount fixed price dinners. Each menu showcases starters, entrees and desserts and features the specialties of the restaurant. The 2017 event will take place from January 27th to February 9th and more than 200 restaurants will be taking part.
You Can Warm Up Inside a Museum
When the weather outside is chilly, you can stay warm within some of Toronto's fantastic museums and art galleries. The Royal Ontario Museum and the Art Gallery of Ontario are the big names, but there are also many others to explore including the Gardiner Museum of Ceramic Art, the Ontario Science Centre and the Bata Shoe Museum.
You Can Do Some Underground Shopping
Want to be able to shop until you drop without having to brave the freezing temperatures? The underground PATH system has 19 miles of retail shops and restaurants, making it the largest underground shopping complex in the world. You can spend all day shopping, eating and exploring without ever having to venture outside.
Hockey Season will Be in Full Swing
Cheering along with the roaring crowd at a Toronto Maple Leafs game is an essential Canadian experience to have during your visit to this great city. Winter is the best time to do this, as you will be visiting right in the middle of the hockey season. If you want to learn more about the sport before the game, you can visit the Hockey Hall of Fame and learn the stories of the best players in the NHL.
These are just a few of the many reasons why visiting Toronto in winter is great, even during the coldest months of the year. Wear a toque, breathe the crisp cold air, stop for regular hot chocolate breaks at Tim Hortons and enjoy!
Latest posts by delsuitesadmin
(see all)